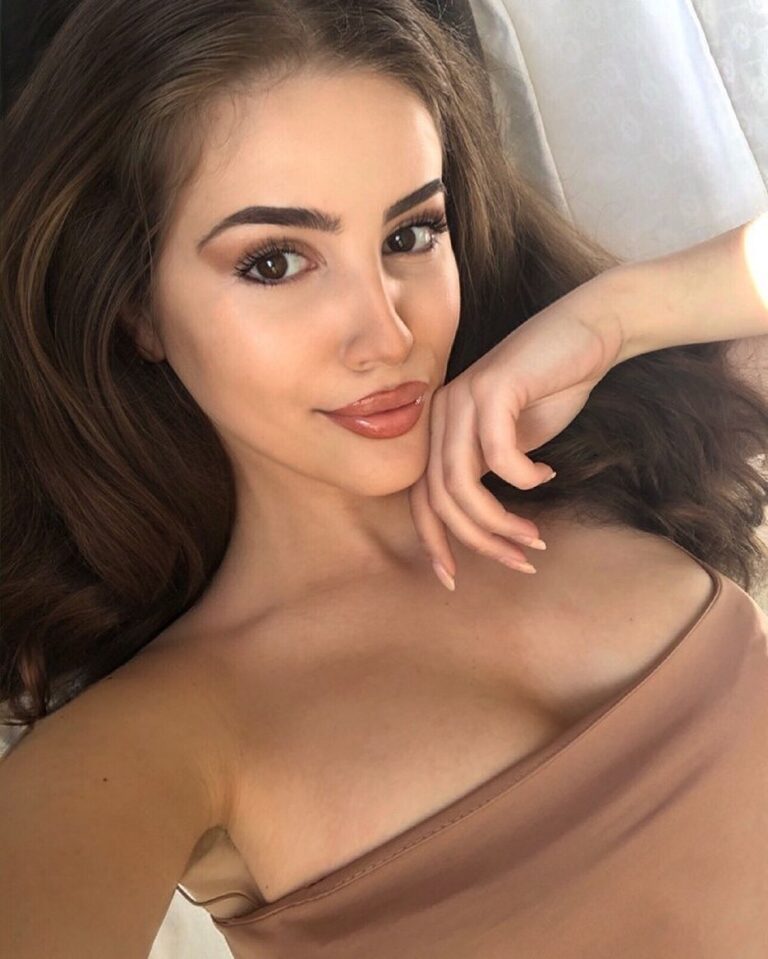 SofiaDate is a dating site for finding your true love among Eastern European women. It hits the top 3 on the popular website among other online Slavic dating websites. Here you can find a great-looking Slavic girl who can further turn into your life partner. Register online on SofiaDate.com and begin your journey!
Over 220K
Visits per month
SofiaDate Overviews
Hundreds of 'online' active Slavic female users
Free online registration
Always free photos and 1 credit free video per day
Infinite correspondence storage
"Online Now" tab for immediate opportunity to chat
24/7 support managers availability
Obligatory credit payment for any messaging
Registration is obligatory. You can not access the website just to observe.
Inability to upload your own video
🔎How We Test
Register and create profiles

Spend 7-10 days using the website

Contact at least 15 users

Test all the features and tools
SofiaDate at a Glance
| | |
| --- | --- |
| 🔗 Website | Sofiadate.com |
| 🗓️ Year established | 2022 |
| ✅ Bonus | 1 credit free video per day |
| 🧑‍🤝‍🧑 Visits per month | 220k |
| 💳 Payment methods | Visa, MasterCard, GooglePay |
Online communication and online dating is no surprise for today. There are hundreds and thousands of online dating websites on the Internet. But the right one for you can be only one of them. SofiaDate hits the top 3 in the list of the best Ukrainian online dating sites. So, maybe it would be SofiaDate? I wrote the whole SofiaDate review for you to be sure it's the perfect match. Read on my personal experience to find out what is SofiaDate and how does SofiaDate work!
Registration Process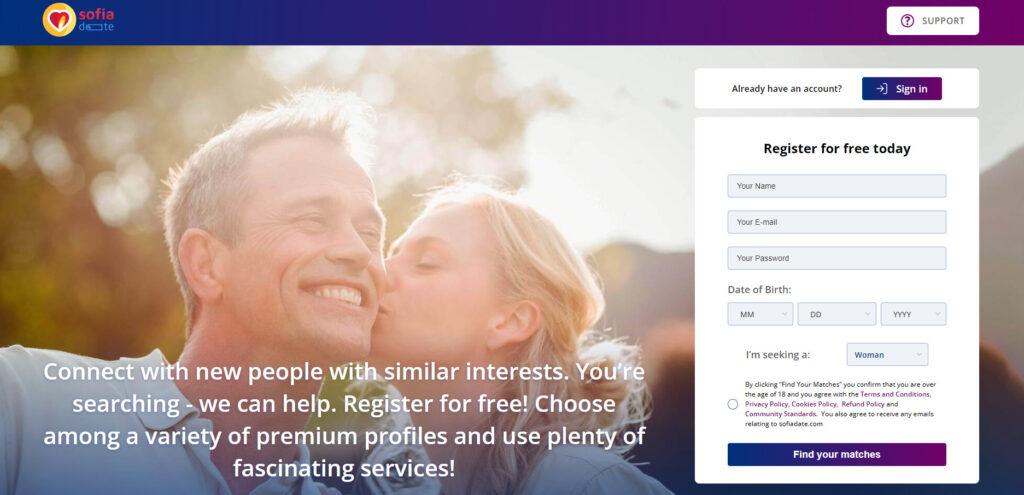 Once you type in 'sofiadate.com' on your computer, you'll immediately be redirected to the main registration page of the website. Unfortunately, SofiaDate reviews affirm you won't be able to check or overview the site before registering, but the registration process is fast and quite simple.
Here is the list of boxes you need to fill in while registering:
Your Name
Your Email
Your Password
Date of Birth
The gender of a person you're seeking (Man/Woman)
After clicking 'I confirm…' button you'll be redirected to the welcoming page, where you can either choose the 'How to start' button or the 'Start searching' one. 
'How to start' – is a really useful button if it's your first time ever on dating websites. It'll help you to complete your profile, teach you how to use the 'search ladies' page, find a girl you've got interested in, search through someone's profile, make payments in order to get credits and pay those credits for the website services.
'Start searching' button will lead you directly to the 'search ladies' page, where you can meet women from Ukraine immediately. There are no useful tips attached, as it's considered that you're already familiar with this type of service.
Don't ignore telling about yourself in your profile. Thanks to that, women will be able to define whether they'll communicate with you or not! Talk about yourself in a simple, specific way. Don't try to be someone else and you'll be messaged as soon as possible.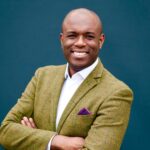 Chris Jones
The registration process is literally the simplest one I've ever got to go through. Surprisingly, it took only 1 minute to fill in all the boxes and got redirected to the main page! I also applied a photo of myself as the main avatar, and attached plenty of other ones to my profile to have more chances to be texted by those stunning Ukrainians.
Interface and User Experience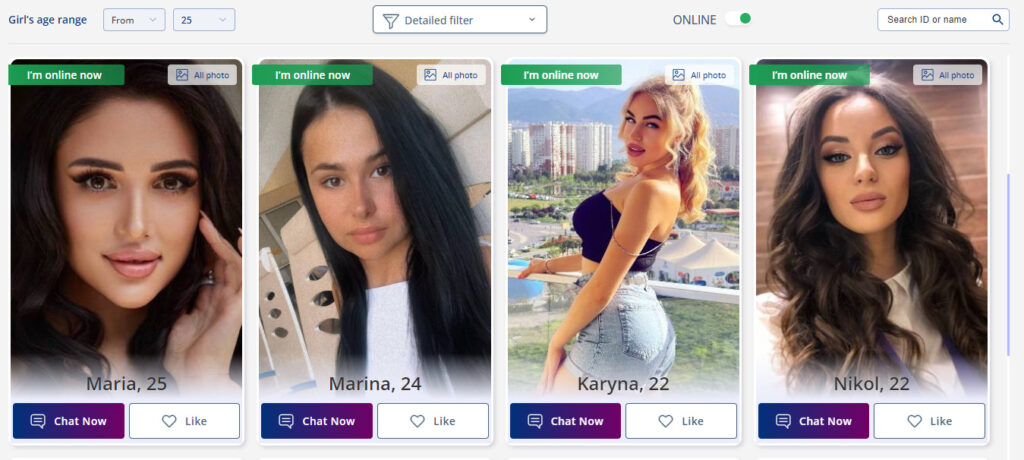 SofiaDate is small in its interface and simple in its usage website. When you log in it redirects you to your 'All chats' page and which happens to be the 'main' page on this website. All of the other tabs are located on the left side of the page.
Let's talk in detail about the most important tabs on the SofiaDate website.
Letters
In 'Letters' you get mails, just as if it's your mailbox like gmail or yahoo. But mailing as long as chatting is ought to be paid by a required credit amount.
Search ladies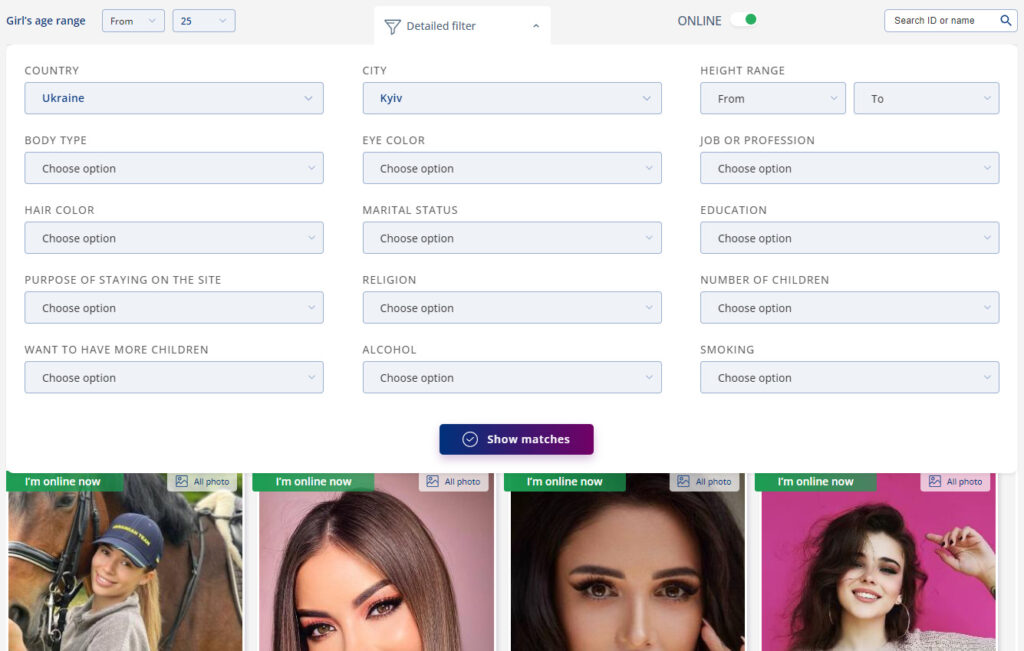 You can use this page to look for your beautiful future partner. You'll see a huge amount of different features and characteristics for searching for your perfect one. There are such characteristics as age, country, height range, eye color, hair color, education, religion, number of children (and even option 'want to have more children'), job or profession, body type, marital status, and even smoking and alcohol boxes.
Online now
'Online now' is a very useful and entertaining tab, because if you're seeking communication right here and right now, you can choose this page and start as soon as someone texts you back. 
Like her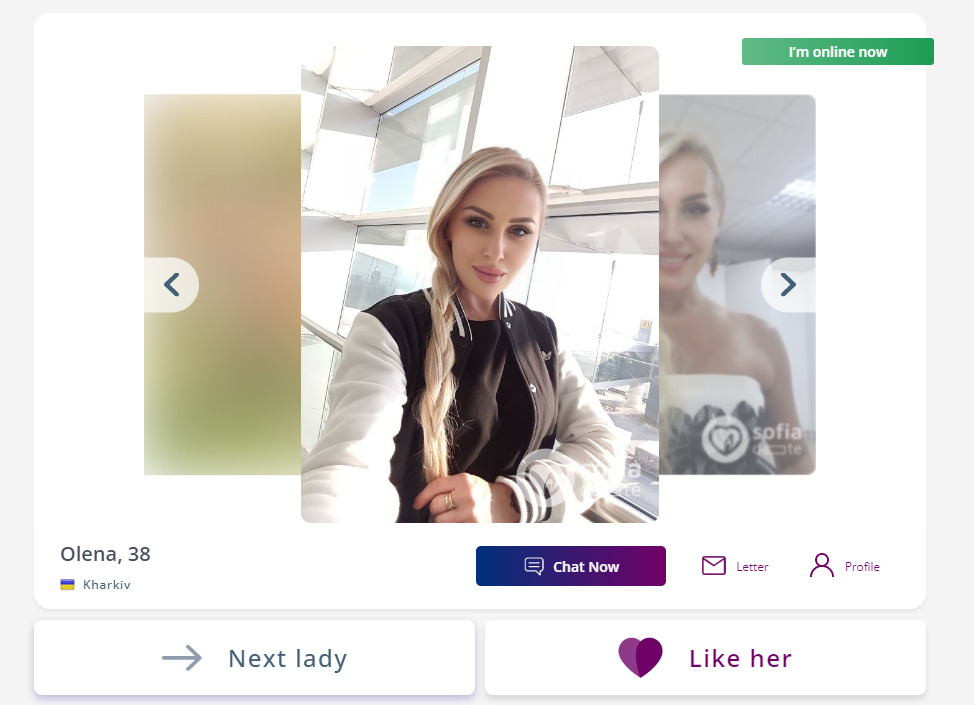 Many Sofiadate.com reviews praise this popular and useful page where you can see the list of suggested profiles for you. If you don't want to use 'Search ladies' or 'Online now' sections, you can always look through all of them on this page. You may see the list of photos and a few buttons like 'Letter' or 'Profile' in case you want to chat immediately or look more at the profile. Or you can just keep skipping profiles until you find the right one.
Videos
It's very convenient that this very page is put separately from the others because you won't face any problems looking for that option. As it was mentioned before, users will always have one credit-free video to watch per day. You can choose whatever video you want from the huge catalog.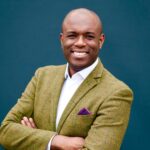 Chris Jones
I tested everything "from the bottom". I logged in and appeared to be on the chat page. SofiaDate offers you constant availability of your chats and 'matches'. You don't need to look for the 'chat' page throughout the website. It's right in front of you. Always! Then, I tried to search for a lady. I picked 5 filters I needed. Such as country (Ukraine), eye color (blue), marital status (single), religion (Christianity), and smoking (never). And within just 1-2 seconds I got hundreds of suggested profiles. You can scroll till the very end and look through all the variants. Or you can just pick the first one and start chatting.
Communication Tools and Features
SofiaDate.com has two main options for communication: instant chatting with online users and mailing with those who are not. As long as messaging and communication is a base in any online dating website, pay attention to the information below.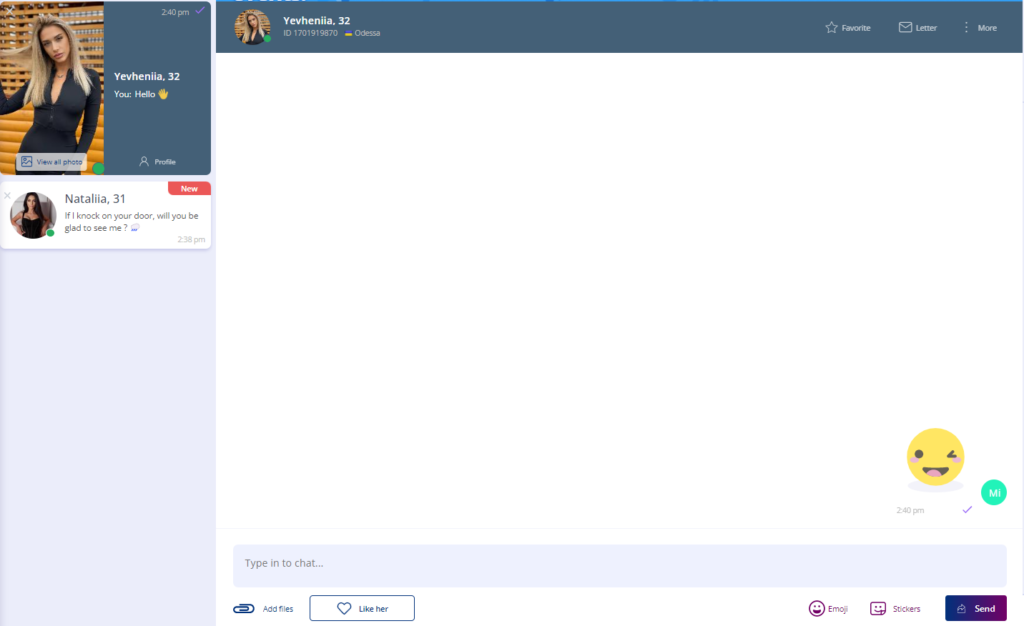 Instant chatting 
You can always chat with someone who is online in the 'All chats' page. This happens to be the main homepage of the whole SofiaDate website. Instant chatting takes place only when the user on the other side of the screen is online and is able to read your text and communicate. The text size allows you to use not more than 300 symbols. Attaching photos is a free option. But keep in mind that communication on SofiaDate is fee-paying.
Mailing
In case your companion is offline, you can easily send a mail. A user behind the screen will be notified about your message and will reply to you as soon as possible. Here you can send a message 4000 symbols long. You can also attach some photos or video content to your mail and your partner is able to do the same. In addition, the website offers a special convenient gift – the first photo attached is totally free!
👎What needs to be improved: Messaging and communication are essential to every dating site and at some point, it has to be free. At least cheaper.
Profiles Quality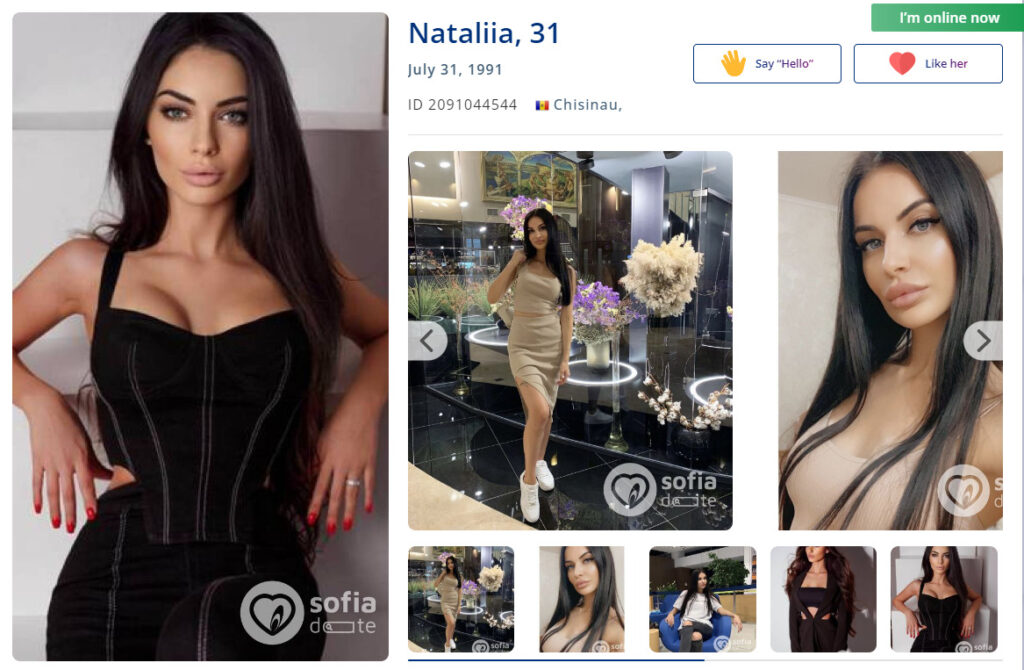 SofiaDate is filled with profiles of beautiful Slavic ladies. On the 'Search ladies' page, you can choose the one you liked the most and look through her profile. According to Sofia Date reviews any profile of the site's users consists of such information as:
Appearance. Here you can find out everything about the appearance of the girl (the color of the eyes, hair, body type, and height).
Social information. Here you'll see whether your partner is married, what job she has, or what religion she is.
Hobby and habits. In this section, you'll see whether the lady smokes or drinks and what hobbies she has.
My self-summary. Here you can read a short summary of the girl you chose, and her own words about herself.
Who am I looking for. An abstract where a girl describes a person she seeks for. Read it carefully. Maybe she's looking for you!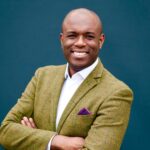 Chris Jones
Profiles on SofiaDate are super creative and colorful. They contain a lot of photos, which are nice to look at, and a lot of useful information which a possible future partner may need.
Customer Service
The support team on SofiaDate is outstanding. You need them – and they're there for you 24/7. You can reach them via email.
SofiaDate pricing and payment policy
However the registration process and photos in profiles are totally free, other services will cost you some credits. At the time of writing this Sofia Date review, the actual price for 35 credits was $12,99.
| | |
| --- | --- |
| Free features | Paid features |
| Registration | Photo attachment (1 photo – 10 credits) |
| Viewing profiles | Video attachment (1 video – 25 credits) |
| Viewing profile photos | Audio attachment (1 audio – 15 credits) |
| Using all of the search filters | Chatting  |
| The 'Like her' option | Mailing (1 letter – 20 credits) |
| First photo in the mail | Video viewing (1 video – 50 credits) |
| 1 video watching per day | Contact request (500 credits) |
| Sending a wink | Sending gifts  |
Who Is SofiaDate For?
| | |
| --- | --- |
| ✅ For | ❌ NOT For |
| Serious people seeking serious relationship | People who look for an affair, not a relationship |
| Men crazy about Slavic girls | People, who are intolerant to other cultures and nations |
| Singles looking for a foreign life-partner | People, who are not ready to pay for communication |
Experts' Conclusion

Entering the site is like entering the whole new dating world. But with the same presents, playful winks, and kisses at the end of the message. SofiaDate is an ideal website for those who want to feel all those feelings again!

SofiaDate is like the other online dating sites – perfect for those who don't want to go outside! Here you can meet your future partner without leaving a computer. And I think this is great for introverts, who prefer staying inside their own fortress.

Even if you've seen a lot of beautiful Slavic girls in your life – SofiaDate will make you hesitate since here is collected one of the biggest Slavic girls profile collections ever! My eyes got wide open once I tried to look for a girl there.
FAQ
Is SofiaDate a Scam?
SofiaDate is not a scam, since many women register there to find their foreign life partner. Also, you can't look over users' profiles without registering, which proves its reality.
Is SofiaDate a Legit Dating Service?
Yes, it is. As long as SofiaDate has its own 24/7 customer service and payment system it's absolutely legit.
How to Get SofiaDate Credits?
Getting credits on SofiaDate is more than simple. First of all, there is a special tab on the top named 'Get credits', where you can oversee every offer. And second of all, when you'll try to send a message or watch a video, you'll get notified about needing to pay. After that, you can choose the payment method which is the most suitable for you.